on Wed Jun 07, 2017 2:04 pm
This guy is a jerk and he's is overrated.
on Wed Jun 07, 2017 11:33 am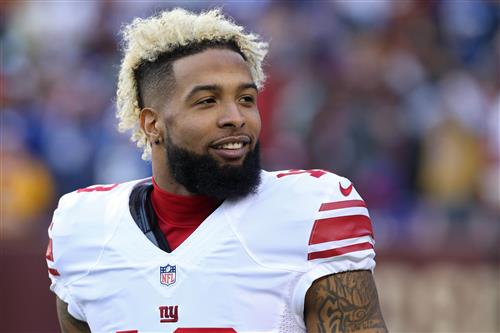 Odell Beckham Jr. showed his strongest sign yet Tuesday night that his absence from Giants OTAs is about the money.
And if it's not a holdout, it sure looks like one now.
Beckham retweeted a link from the website FanSided that contained a video of ESPN reporter Adam Schefter talking as if he were Beckham's agent on ESPN Radio, saying Beckham shouldn't show up again in East Rutherford until the Giants rip up Beckham's rookie deal and pay him what he is worth.
Beckham, 24, is scheduled to make $1.8 million in base salary this season and then $8.4 million in 2017, in the fifth-year option the Giants recently picked up.
But an NFL player and his team are allowed to revisit and renegotiate his rookie deal after three years of service, which Beckham has completed.
And his salary pales in comparison to contracts such as that of Beckham's good friend Antonio Brown, 28. Brown is now worth a league-high $17 million per year for receivers, per overthecap.com, and received a $19 million signing bonus on his latest extension.
Beckham also is good friends with Broncos linebacker Von Miller, 28, who went to the wire in a contentious post-Super Bowl negotiation with Denver before signing just prior to the franchise tender deadline last July to a record six-year, $114.5 million deal that included $70 million in guarantees.
Beckham recently received a five-year, $29 million extension from Nike, so he's not hurting for spare change. But if his Tuesday retweet is any indication, it appears he does not intend to report until he has a new Giants contract, too.
http://www.prosportsdaily.com/Headlines/ExternalArticle?articleId=470190
_________________
Permissions in this forum:
You
cannot
reply to topics in this forum